We already published the list of best Saturn games of all time, now it's time to discover the best Saturn fighting games of all time.
With amazing titles available, the Saturn definitely has a great library of fighting games.
So, if you're a fan of both the Saturn and fighting games, there's a chance you'll like this list.
And some of you may already know some of the games mentioned in this list.
#5. Virtua Fighter Kids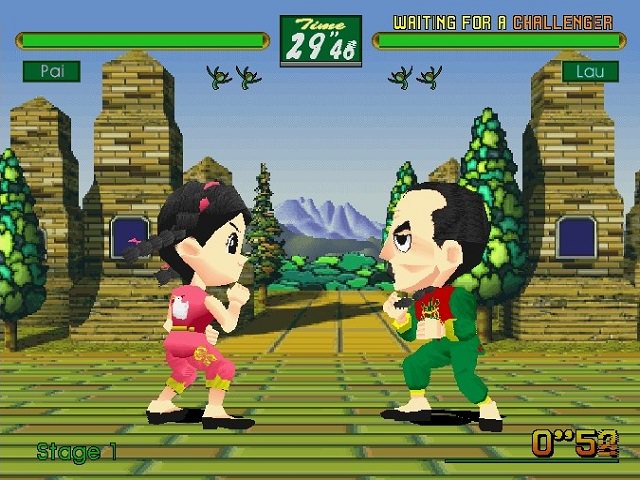 Release Data: Sega AM2/Sega, 1996
Genre: Action » Fighting » 3D
Virtua Fighter Kids is essentially a deformed version re-make of Sega's 3D fighting game, Virtua Fighter 2.
This game didn't play quite as smooth as the original Virtua Fighter 2, but it is a funny and entertaining game.
It is also the only game in the series to feature character endings.
#4. Marvel Super Heroes
Release Data: Tsuji Jimusho/Capcom, 1997
Genre: Action » Fighting » 2D
The thing about this game is, it is smoothly animated with awesome, over-the-top attacks.
All the standard punch and kick moves apply, plus there are a few special attacks for each character.
The backgrounds are gorgeous, and sometimes the screen will scroll up really, really far. Overall, a great game.
#3. Virtual-On: Cyber Troopers
Release Data: CRI/Sega, 1996
Genre: Action » Fighting » 3D
If you are a fan of giant robot games, you really need to try out this game.
Although the visuals are a little blurry and the controls are awkward, it is still a great way to spend your time.
What this game lacks in depth, it more than makes up for with Sega quirk and fast paced arcade fun.
#2. Fighting Vipers
Release Data: Sega AM2/Sega, 1996
Genre: Action » Fighting » 3D
Taking its fighting style cues from Virtua Fighter 2 (which was also on the Saturn), Fighting Vipers focuses on combo moves.
All in all, Fighting Vipers is not only an interesting look back at the Saturn era of SEGA fighting games, but a solid fighting game that still stands on its own.
#1. Fighters Megamix
Release Data: Sega AM2/Sega, 1997
Genre: Action » Fighting » 3D
Fighters Megamix defines the word "fun", especially with a friend.
The graphics are ultra smooth, just like other Saturn fighters. Options and characters are plentiful while the replayability is unlimited.
In order to unlock the additional characters you have to beat a series of predetermined matches. In short, say hello to one of the best 32-bit fighters.
---
Browse Saturn Games By Genre
See also: Best Genesis Games & Best Dreamcast Games
Are your favorite games on the list?
Deciding which Saturn fighting game is the best is no doubt a never ending topic, but it's fun to do!