We already published the list of best GBC games of all time, now it's time to discover the best GBC arcade racing games of all time.
With amazing titles available, the GBC definitely has a great library of arcade racing games.
So, if you're a fan of both the GBC and arcade racing games, there's a chance you'll like this list.
And some of you may already know some of the games mentioned in this list.
#10. Test Drive Cycles
Release Data: Xantera/Infogrames, 2000
Genre: Racing » Arcade » Automobile
The graphics and sound in this game can be described as plain, but they do serve their purpose.
In all, what really makes Test Drive Cycles a good game is the balance of arcade-style gameplay and a lengthy championship mode.
Even with average graphics and sound, good solid gameplay ultimately makes this game worthwhile.
#9. Championship Motocross 2001 Featuring Ricky Carmichael
Release Data: Tiertex Design Studios/THQ, 2000
Genre: Racing » Arcade » Other
Championship Motocross 2001 has serious potential as a racing game, but there are so many problems keeping it from breaking out of the "mediocre" watermark.
Races that go on too long, tracks that go on forever, passwords that could overwhelm a safecracker, and downright difficult computer AI.
#8. Chase H.Q.: Secret Police
Release Data: Taito Corporation/Jorudan, 2000
Genre: Racing » Arcade » Automobile
You can't bury a game because the sound is average, and considering the other improvements, it's not necessary anyway.
Chase H.Q.: Secret Police is fun to play, the strategy elements are engrossing, and the level design gives the game a sense of replay rarely seen in GBC racing titles.
The game isn't perfect, but it holds up against modern releases.
#7. Top Gear Pocket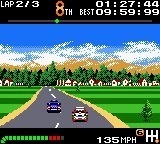 Release Data: Vision Works/Kemco, 1999
Genre: Racing » Arcade » Automobile
Overall, this game is a worthy purchase for racing fans, but perhaps not for the casual gamer.
The rumbling made it a novelty, though there are certain areas that could easily be improved on due to obvious mistakes.
It is certain that this is a good, reasonably polished game, that could have been great.
#6. Disney/Pixar Toy Story Racer
Release Data: Tiertex Design Studios/Activision, 2001
Genre: Racing » Arcade » Automobile
All in all, Toy Story Racer isn't the best of the Mario Kart clones.
In fact, for most players, Wacky Races is a much better alternative.
However, the 3D visuals and cartoon-style charm contained within Toy Story Racer do make it an excellent choice for children, Disney fans, or Game Boy fanatics who enjoy visual gimmicks.
#5. Polaris SnoCross
Release Data: Vicarious Visions/Vatical Entertainment, 2000
Genre: Racing » Arcade » Other
At the outset, Polaris SnoCross is an above-average racer that delivers the "extreme" experience, while including an often-neglected link-play feature.
As such, Vicarious Visions has given the game that extra ten percent that is required to deliver bona fide replay value.
Not only that, but the company didn't skimp in single-player modes either.
#4. Star Wars Episode I: Racer
Release Data: Pax Softonica/Nintendo, 1999
Genre: Racing » Arcade » Futuristic
Star Wars Episode I: Racer for the Game Boy Color is a fun little game.
It's not the sort of thing you'll find yourself playing for months on end, but it's one of the better racing games to grace the system.
#3. Driver: You are the Wheelman
Release Data: Crawfish Interactive/Infogrames, 2000
Genre: Racing » Arcade » Automobile
Despite the weaknesses in the sound department, Driver is smoothness personified.
Driving around is fun and exciting, the levels are varied, and the side games really do improve your skill within the main game.
Even without a battery save and a two-player feature, there's really nothing major to complain about.
#2. Wacky Races
Release Data: Velez & Dubail/Syscom, 2000
Genre: Racing » Arcade » Automobile
It's rare when a licensed racing title turns out good, and even more rare when that game is on the Game Boy Color.
In every category, be it gameplay, sound, visuals, or replay, Infogrames' Wacky Races turns in a solid performance.
#1. Mickey's Speedway USA
Release Data: Rare Ltd./Nintendo, 2001
Genre: Racing » Arcade » Automobile
Just as everyone expected, Rare and Nintendo have wrapped the Disney license around the best Game Boy Color kart racing game currently available.
All in all, the varied gameplay, diverse options, gorgeous visuals, and ample two-player support make Mickey's Speedway USA a class-A title.
---
Browse GBC Games By Genre
See also: Best N64 Games & Best GBA Games
Are your favorite games on the list?
Deciding which GBC arcade racing game is the best is no doubt a never ending topic, but it's fun to do!