The Xbox One, Microsoft's gaming console that aimed to merge entertainment and gameplay, presented players with a wide array of experiences.
However, not all games on this platform managed to reach the same level of quality. Amid the successes, a few unfortunate titles emerged that left players feeling let down and unsatisfied.
Plagued by lackluster gameplay and perplexing design choices, these games embody the less celebrated side of the Xbox One's diverse library.
Join us on a journey through gaming's most infamous misfires as we reveal the worst Xbox One games of all time, forever etched in the annals of disappointment.
#10. Giana Sisters: Dream Runners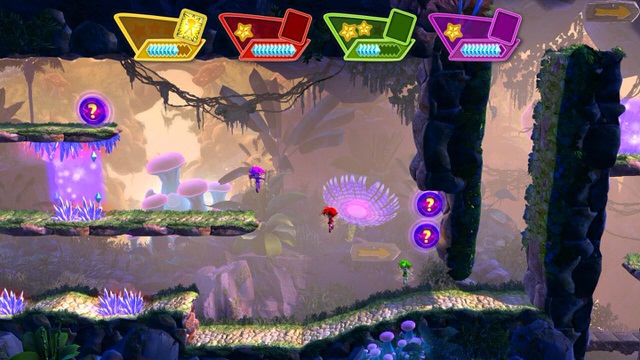 Release Data: Black Forest Games/EuroVideo Medien, 2015
Genre: Action » Platformer » 2D
This title makes an effort to blend platformer and runner elements while staying true to the Giana Sisters franchise.
Unfortunately, its clunky controls, lack of online players, and problematic camera view hinder the experience.
And despite its potential, the game's execution falls short, leaving players wishing for a more polished and enjoyable gameplay experience.
#9. 7 Days to Die
Release Data: Iron Galaxy Studios/Telltale Games, 2016
Genre: Action Adventure » Survival
This title tries to combine zombie survival with crafting and teamwork, offering interesting ideas for the genre.
However, the game suffers from bad graphics, difficult menu controls, and not-so-great console performance.
And while it introduces good concepts, the overall experience is affected by many technical problems, resulting in a frustrating game about surviving during a zombie apocalypse.
#8. Super Night Riders
Release Data: neko.works, 2016
Genre: Racing » Arcade » Automobile
This game pays homage to a dead genre but falls short in capturing the charm of its predecessors.
While it tries to recreate the experience for a new generation, it doesn't quite hit the mark.
If you're a fan of the genre, consider getting it on sale, but otherwise, the lack of content might not justify getting it.
#7. Hello Neighbor
Release Data: tinyBuild, 2017
Genre: Adventure » 3D » First-Person
Hello Neighbor often causes frustration rather than fear, turning into a disaster overall.
While it has a promising concept, its illogical puzzles and unreliable AI make it fall short.
And although its gameplay style and backstory might make it popular on platforms like YouTube and Twitch, there are other games in the same genre that are more worth recommending.
#6. NBA Live 14
Release Data: EA Sports/Electronic Arts, 2013
Genre: Sports » Team » Basketball » Arcade
NBA Live 14 is a complete mess that likely should never have been released—even EA has issued apologies for its poor quality.
The gameplay is severely flawed, with dunks being too easy to score and 2-point jumpers being nearly impossible, coupled with unrealistic AI behavior that makes for an unsatisfying experience.
Stay away from this one.
#5. Ghostbusters
Release Data: Activision, 2016
Genre: Action » Shooter » Shoot-'Em-Up » Top-Down
Ghostbusters puts forth minimal effort and it's clear that the project lacks genuine care.
It's ironic that a game centered around ghosts and supernatural elements lacks any real excitement or enthusiasm.
So, who you gonna call? Hopefully someone else so that you don't have to experience this by yourself.
#4. Rock 'N Racing Grand Prix
Release Data: EnjoyUp Games, 2016
Genre: Racing » Arcade » Automobile
If you're looking for a top-down arcade racing game like the classics of the past, it is recommended to look elsewhere instead of spending money on this game.
However, if you're truly willing to be tortured, you might find value in this game.
Just keep in mind that you often get what you pay for with this title.
#3. Overlord: Fellowship of Evil
Release Data: Codemasters, 2015
Genre: Role-Playing » Action RPG
The campaign might seem substantial at first, but as you delve into the levels, it becomes apparent that the long campaign turns into monotonous repetition.
So, this game had the opportunity to shine, especially with its Diablo-style gameplay direction.
However, the game's lack of polish and uninspiring gameplay results in a messy experience that's best avoided by all gamers.
#2. Soda Drinker Pro
Release Data: Snowrunner Games, 2016
Genre: Casual » General
Soda Drinker Pro is a weird creation by a guy who managed to convince people to pay for his quirky inside joke.
Further investigation reveals that the first version of this game was developed in a single day by someone who simply wanted a soda.
And just like soda, you better avoid it, for your own sake.
#1. Fighter Within
Release Data: Ubisoft, 2013
Genre: Sports » General
Many had high hopes for Ubisoft's second attempt at a Kinect fighting game, but unfortunately, this game disappoints in every aspect.
If you have an Xbox One, it is strongly advised to stay away from this title.
Instead, opt for games like Killer Instinct for a genuine fighting game experience.
---
While the Xbox One delivered countless unforgettable experiences, these titles serve as cautionary reminders of the industry's occasional missteps.
Let us remember them as important lessons in the ever-evolving world of gaming.