The Game Boy Color (GBC), a handheld console adored by gamers, offered countless hours of fun with its impressive game selection.
However, not all games on this portable platform were winners; some turned out to be major disappointments.
These regrettable titles, plagued by poor design choices and lackluster gameplay, stand as cautionary tales in the world of gaming.
Join us as we embark on a journey through the lowest points in GBC gaming history, revealing the worst GBC games of all time that left players longing for more.
#10. X-Men: Mutant Academy
Release Data: Crawfish Interactive/Success, 2000
Genre: Action » Fighting » 3D
This portable version of a game with the same title is quite disappointing, especially when you realize that the same company that made Street Fighter Alpha for the GBC is behind this game's failure.
Despite having appealing graphics, the gameplay and overall value of the game are seriously lacking.
Professor X would definitely not be happy with it.
#9. FIFA 2000
Release Data: Tiertex Design Studios/THQ, 1999
Genre: Sports » Team » Soccer » Sim
The only way this game becomes enjoyable is if you imagine it as a mix of rugby and soccer, where the goal is to slide and tackle your opponents.
Sometimes, on rare occasions, scoring feels satisfying too, but after dealing with the bad controls.
To be honest, FIFA 2000 is a disappointment and doesn't live up to its name.
#8. Toobin'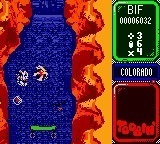 Release Data: Digital Eclipse/Midway, 2000
Genre: Action » Arcade
Toobin' for Game Boy Color combines surfing and shooting gameplay, but it lacks competition, leading to limited replay value.
And the simplified controls also make steering difficult, and the hit detection issues add frustration.
It is visually appealing with decent sound effects, but it may not meet arcade fans' expectations, requiring a thorough review before getting it.
#7. Towers: Lord Baniff's Deceit
Release Data: JV Games Inc./Vatical Entertainment, 2000
Genre: Role-Playing » General
This game lacks the elements needed to hold your interest, especially considering it's a game that demands hours of play to progress.
Unless you enjoy poorly executed gameplay, you'll likely lose interest as soon as you start your adventure.
The only slightly impressive aspect was the beginning, but unfortunately, the rest of the game goes downhill from there.
#6. Carmageddon
Release Data: Aqua Pacific/Titus Software, 2000
Genre: Simulation » Vehicle » Combat
Carmageddon offers a mix of pros and cons, but unfortunately, each positive aspect seems to be balanced out by a negative one.
The absence of a two-player feature also makes it less appealing.
And while the option to run over pedestrians might be a unique element, it's not enough to make Carmageddon a standout choice among other available games.
#5. Buffy the Vampire Slayer
Release Data: Game Brains/THQ, 2000
Genre: Action » Beat-'Em-Up » 2D
Buffy the Vampire Slayer for Game Boy Color is a disappointing side-scrolling beat-em-up with lackluster gameplay.
The repetitive one-button combat against one vampire at a time becomes a monotonous chore. Not only that, the game also lacks creativity, making it predictable and uninteresting.
Overall, it receives an awful verdict.
#4. The Powerpuff Girls: Bad Mojo Jojo
Release Data: Sennari Interactive/Bam Entertainment, 2000
Genre: Action » Platformer » 2D
This platformer for Game Boy Color disappoints fans with its simplicity and monotony.
Playing as Blossom, you collect trinkets, defeat enemies, and face repetitive boss battles.
Overall, it fails to hold players' attention and offers little challenge or excitement, making it an underwhelming game for both fans and non-fans of the series.
#3. Shrek: Fairy Tale Freakdown
Release Data: Prolific/TDK Mediactive, 2001
Genre: Action » Fighting » 2D
This 2D fighting game for Game Boy Color falls short due to its lack of moves, strategy, and two-player mode.
Moreover, the repetitive CPU behavior makes defeating opponents predictable.
In the end, the game may appeal to younger players, but it disappoints discerning gamers and fighting game enthusiasts.
#2. Titus the Fox
Release Data: Aqua Pacific/Virgin Interactive, 2000
Genre: Action » Platformer » 2D
Titus the Fox is a textbook example of how not to make a platform game.
Riddled with bugs and design flaws, it feels unfinished and poorly developed.
The inclusion of a link-cable mode is a positive aspect, but it also has its issues, including flickering and speed problems.
Overall, it is a really bad game and not worth playing.
#1. Men in Black: The Series
Release Data: Tiertex Design Studios/Crave, 1998
Genre: Action » Shooter » Shoot-'Em-Up » Vertical
Men in Black is a pretty predictable action game with limited diversity and below-average gameplay.
The game's speed and controls feel too slow for a shooter, leading to a monotonous cycle of walking, stopping, jumping, and shooting.
So, avoid this game, as it may turn out to be very dull.
---
While the GBC delivered countless unforgettable experiences, these titles serve as cautionary reminders of the industry's occasional missteps.
Let us remember them as important lessons in the ever-evolving world of gaming.