The GameCube, Nintendo's compact and quirky console, delighted gamers with a diverse library of captivating titles.
However, not every game on this purple-hued system managed to shine. Amidst the triumphs, a handful of unfortunate titles emerged that left players feeling disappointed and bewildered.
From lackluster gameplay to perplexing design choices, these games exemplify the darker side of the GameCube's collection.
Join us on a journey through gaming's most infamous missteps as we uncover the worst GameCube games of all time, forever etched in the annals of disappointment.
#10. Disney's Hide & Sneak
Release Data: Capcom, 2003
Genre: Action Adventure » Linear
This game may appear solid based on its visuals, especially for those who judge games by their covers.
And despite its decent graphics, the control configuration is frustrating and the puzzles can be confusing, which can lead to struggles for young players.
Considering these factors, it's best to ignore this game.
#9. Disney's Party
Release Data: Neverland/Hudson, 2003
Genre: Casual » Party / Minigame
Disney's Party falls short of delivering a truly enjoyable experience.
The mini-games, which are the main attraction, offer a diverse selection, but many of them feel repetitive and lack excitement.
There is also a lack of challenge and fun when playing the single-player mode against computer-controlled characters.
Overall, it is an uninspired party game aimed at younger audiences.
#8. Medabots: Infinity
Release Data: Natsume, 2003
Genre: Action Adventure » General
Medabots: Infinity is a disappointing Pokémon-like game with frustrating stages, poor AI, and camera issues.
The character models are decent, but the environments lack variety. The music is repetitive, and the voice work is mostly subpar.
Overall, the game offers little beyond basic gameplay, and fans may prefer the cartoon over this.
#7. Jeremy McGrath Supercross World
Release Data: Acclaim Studios Salt Lake City/Acclaim, 2002
Genre: Racing » Arcade » Other
Jeremy McGrath Supercross World is a disappointing MX game, marred by poor graphics, frustrating controls, and lackluster AI.
The single-player career mode starts with an unfair disadvantage, and the identical-looking bikes are disappointing.
Moreover, the graphics are outdated, with poor draw-in distance and low-quality textures.
In short, it is best to avoid this game altogether.
#6. The Sum of All Fears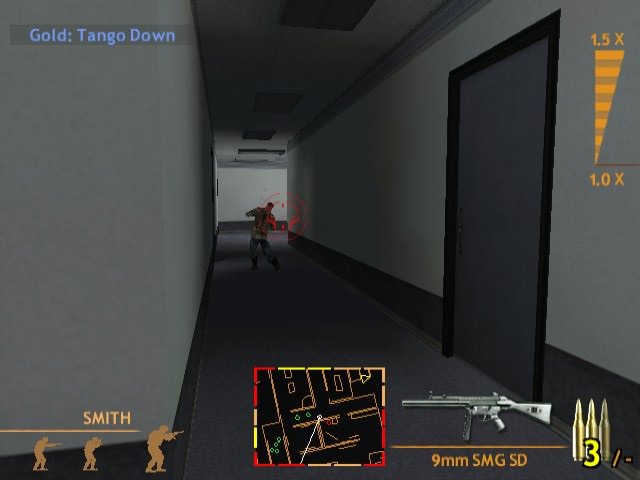 Release Data: Ubisoft Shanghai/Ubisoft, 2002
Genre: Action » Shooter » Third-Person » Tactical
This is undoubtedly one of the worst first-person shooters available.
It's plagued with various issues, such as flawed presentation and gameplay mechanics, extended load times, and an absence of challenge and length.
Taking all these problems into account, it's clear that this game is not worth your time or money.
#5. Universal Studios Theme Parks Adventure
Release Data: Nai'a Digital Works/Kemco, 2001
Genre: Adventure » 3D » Third-Person
Universal Studios Theme Park Adventure is filled with multiple minor annoyances that add to its dull gameplay.
The graphics don't live up to the GameCube's capabilities, and navigating the park is overly challenging, with little assistance from the inadequate park map.
All these issues combine to create a game that is not worth investing much time or effort into.
#4. Shrek Extra Large
Release Data: Digital Illusions/TDK Mediactive, 2002
Genre: Action » Platformer » 3D
This game is exceptionally terrible and stands out as a prime example of poor execution, especially in an industry that typically releases games of at least average quality.
Even Shrek wouldn't want to be associated with a game like this.
And if you have kids, avoid this game altogether—it's so bad it might negatively impact their gaming experience.
#3. Batman: Dark Tomorrow
Release Data: Kemco, 2003
Genre: Action Adventure » General
This action-adventure title suffers from multiple issues, including stiff gameplay, muddy graphics, and clunky movement within the game's levels.
While the story and voice acting may be acceptable, the actual gameplay experience is far from worthwhile.
In conclusion, playing Batman: Dark Tomorrow isn't even worth the time, even if you're getting it for free.
#2. Aquaman: Battle for Atlantis
Release Data: Lucky Chicken/TDK Mediactive, 2003
Genre: Action Adventure » General
This is a disappointing and repetitive game that fails to do justice to the iconic DC superhero.
The gameplay consists of monotonous combat against clusters of enemies, with a frustrating camera and control scheme.
Overall, the game falls short in every aspect and is not worth getting, even for hardcore Aquaman fans.
#1. Charlie's Angels
Release Data: Neko Entertainment/Ubisoft, 2003
Genre: Action » Beat-'Em-Up » 3D
This title suffers from numerous issues, including poor gameplay and graphics that fall short even compared to older N64 games.
The Angels themselves are poorly represented and barely recognizable as their film counterparts, constructed from a limited number of polygons that don't fit well together.
In the end, even devoted fans of Charlie's Angels will find this game disappointing.
---
While the GameCube delivered countless unforgettable experiences, these titles serve as cautionary reminders of the industry's occasional missteps.
Let us remember them as important lessons in the ever-evolving world of gaming.